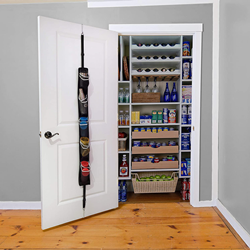 PITTSBURGH (PRWEB)
April 29, 2021
Davison Inventions continues to assist clients in taking ideas and bringing them into reality, from the earliest stages of design to engaging with companies about licensing opportunities. Now, Davison is proud to announce The Adjustable Home Organizer, a product that promises to change the way families utilize space throughout their homes.
Many people consider the smaller rooms and areas of their residences to be too full already for additional storage. Hall closets, pantries, and other minor spaces are usually already full of important household items, making them an afterthought for storing anything else. The lack of places to put things leads to some people leaving important items out in the open, or living in a state of "organized chaos" where everything in general is left lying around.
The Adjustable Home Organizer's simple design solves this problem effectively. Its narrow shape allows it to fit on the back of almost any door , while its sturdy hooks will securely hold many items in any of its five pockets. The deep storage compartments of the organizer are great for holding all sorts of items that would otherwise clutter a space—such as beverage cups, toiletries, tools, toys, and anything else that needs to be put away for later.
Though the Adjustable Home Organizer is meant for indoor spaces of apartments, dorm rooms, and homes, the portability it offers also makes it a great option for several other areas and activities. The Organizer works well on an office door, and also while traveling for convenient access to key items in an unfamiliar space. Outdoor enthusiasts can take the organizer with them for use in their RVs, campers, and other live-in vehicles.
This product features adjustable straps that can fit any door between 68 and 80 inches tall. The Adjustable Home Organizer is highly recommended for storage of critical everyday items such as phones, keys, wallets, accessories, mail, and more. Keeping these important objects in a reliable place will help reduce stress and create a space that is clutter-free, well lit, and worth taking pride in.
More About Davison Inventions
The Adjustable Home Organizer is just one of Davison's success stories. The company has aided its clients with conceptualizing, designing, developing, and licensing products for the past 30 years. Although the typical client project is not sold in stores, Davison's products and its clients 'products have sold in more than 1,200 online stores and retailers. The company has also won several design awards for its product designs.
"Davison has a very effective way of presenting new products to our firm," a representative of Koller Enterprises, Inc. said of the company. "They truly understand what is needed when considering a new product. We value the open line of communication that we have with a corporation of their caliber."
For over 30 years, Davison Inventions has helped new and seasoned inventors to transform their ideas from a thought to a finished product. This industry innovation has broken the barrier for our clients, resulting in an industry-leading number of products for sale in both online and brick and mortar stores across the globe.
Contact Davison Inventions today or call 1-800-544-3327 to start bringing your idea to life.
Share article on social media or email: